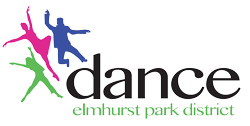 Welcome to the Elmhurst Park District Dance Program! Dance enriches participants' lives in so many ways; it can instill confidence, improve flexibility and balance, develop rhythm, create a sense of freedom to express one's self, provide an outlet for socialization, enhance memorization skills and so much more. The Elmhurst Park District is proud to offer wonderful opportunities for self-expression through dance.
The Elmhurst Park District hosts a variety of dance classes for children ages 18 months to adult, from tap to hip hop to ballet – and more.  Classes are held at the Wagner Community Center, 615 N. West Avenue.
Summer Dance Camps
The Elmhurst Park District offers several weeklong summer dance camps for everyone from the novice to experienced hoofers.  At Summer Dance Intensive Camp (ages 6-13), dancers of all abilities will rotate through a variety of technique classes as well as work on group choreography.  Dance forms include Ballet, Jazz, Hip Hop, and Tap.  Summer Dance Performance Camp (ages 9-15) is an all-day camp for the dancer who can't get enough of the discipline.  Campers will enjoy a full week of dance technique and choreography, including Ballet, Jazz, Hip Hop, and Tap.  A field trip to a dance destination may be included as well as educational presentations about the art and history of dance.  Participants will give a performance for family and friends.  At Movin' & Shakin' Dance Camp, for ages 42 months-5 years, preschoolers will explore the world of dance through movement, games, and themed activities.  Razzmatazz Dance Campers (ages 6-9) will learn the latest dance moves in a creative environment, with an emphasis on creativity, self expression and fun.  The Impact Dance Company Technique workshop (ages 9-17) is for returning dancers as well as dancers interested in the Impact Dance Company.  Preparatory work on skill development as well as form and technique will be emphasized.  
Early Childhood Dance Programs
Designed specifically for ages 18 months-6 years, these non-recital programs are a great introduction into the wonderful world of dance. Several classes are offered and each class is designed to teach students the fundamentals of dance such as rhythm, coordination, flexibility, balance and self-confidence. Dancers will learn basic dance terminology as well as simple combinations to familiar songs. With the exception of "Me & My Shadow," parents will be asked to wait in the lounge while classes take place. Each session will conclude with a class observation day.
Youth Performance Dance Programs
Our Youth Performance Dance classes run from September through May, with options for ages 4-18. The Youth Performance program is designed for the dancer who would like training in both technique and performance, showcasing their achievements at our annual dance recital in May. Dancers have the opportunity to build on rhythm, flexibility and coordination skills, as well as explore dance technique among like-minded peers.
Adult Dance Programs
Adult classes are a great form of exercise, providing participants an opportunity to relieve stress while having fun and learning a new activity or perfecting their dance form. Throughout the year, various adult dance classes are offered such as Belly Dance, Tap, and Jazz.
Elmhurst Park District Impact Dance Company
The Elmhurst Park District Impact Dance Company offers the serious, talented and dedicated student the opportunity to further their training with performance. Designed for the dancer who has a desire to grow and perform, the Company is a fun, educational and creative experience with the focus not on learning a dance, but learning how to dance. Our choreographers will challenge company members, as we are most interested in the growth and development of each student. We understand that every dancer has different strengths and weaknesses, and we try to showcase everyone in our choreography.
For additional information, please contact Susan Smentek, Program Manager at (630) 993-8670.