For ages 5-13, this is THE go-to camp for an exciting summer of fun! Let our experienced, enthusiastic, and highly trained staff lead your child through a safe and engaging summer. We have small groups, low camper to staff ratios, and great indoor and outdoor spaces for our many well-planned activities.
Funseekers Day Camp Drop off time is 7:30-9 am. We will not accept campers after 9 am. Pick up time is 3:45-4 pm, early pick-up is not allowed. After Camp Care is 4-6 pm.
Camp Canteen for ages 11-13
Our Funseekers Camp for children who will be in grades 6th-8th in the fall. Teen Campers will swim in our outdoor pools twice a week and attend two field trips a week.
Funseekers Camp for ages 5-10
At our Funseekers Camp for ages 5-10, choose between our original north side location at the Wagner Community Center and our beautiful south side location at the Eldridge Park Recreation Building. After Camp Care is also available at both locations. Campers will swim at our outdoor pools two times a week and attend one field trip a week.
10 Week Option
This option is for families who need their children enrolled for the entire 10 weeks of summer camp. Attendance is required for the full 10 weeks. No refunds will be given for missed weeks of camp.
Refunds
May 1: Deadline to withdraw and receive a full refund, including the deposit for Funseekers & Camp Canteen.
Starting May 2, until two weeks BEFORE the camp starts: Participants can be withdrawn and receive a 50% refund. After that, no refunds, except emergencies.
After it is two weeks before the camp starts: No refunds will be given except in emergency situations. These will need to be approved by the Program Supervisor.
Camp Information Forms
Every camper registered must have emergency forms completely filled out. Funseekers and Camp Canteen utilize ePact, an electronic health record system for camps and schools. More information about ePact for these camps will be sent to you after registration.
The security, confidentiality and privacy of your camper's personal information will always be protected. Only select Elmhurst Park District staff will have access to camper information.
Camp Staff and Training
A qualified adult supervisor or director supervises each camp. Staff at each camp are mature and enthusiastic about keeping your child safe and having fun. All camp staff complete a training program that includes CPR/AED training, supervision and safety techniques, activity development, first aid, and pool safety for camps that visit pools.
---
Receipts
Please retain your returned check or receipt/confirmation for tax purposes. A year-end tax statement will be furnished upon request by calling (630) 993-8927. Elmhurst Park District tax I.D. # is 36-6005-865.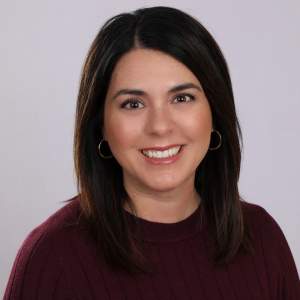 Joanne Lamb
Program Staff
Funseekers and Rec Station