Meet community need for new and existing indoor recreation space.
Goal 1: Maintain and update existing facilities.
Goal 2: Invest in new indoor facilities / space to respond to community needs.
Goal 3: Optimize use of existing facilities.
Tactic 1: Complete Adult Center renovation (Completed 2022)
Adult Center Concept Boards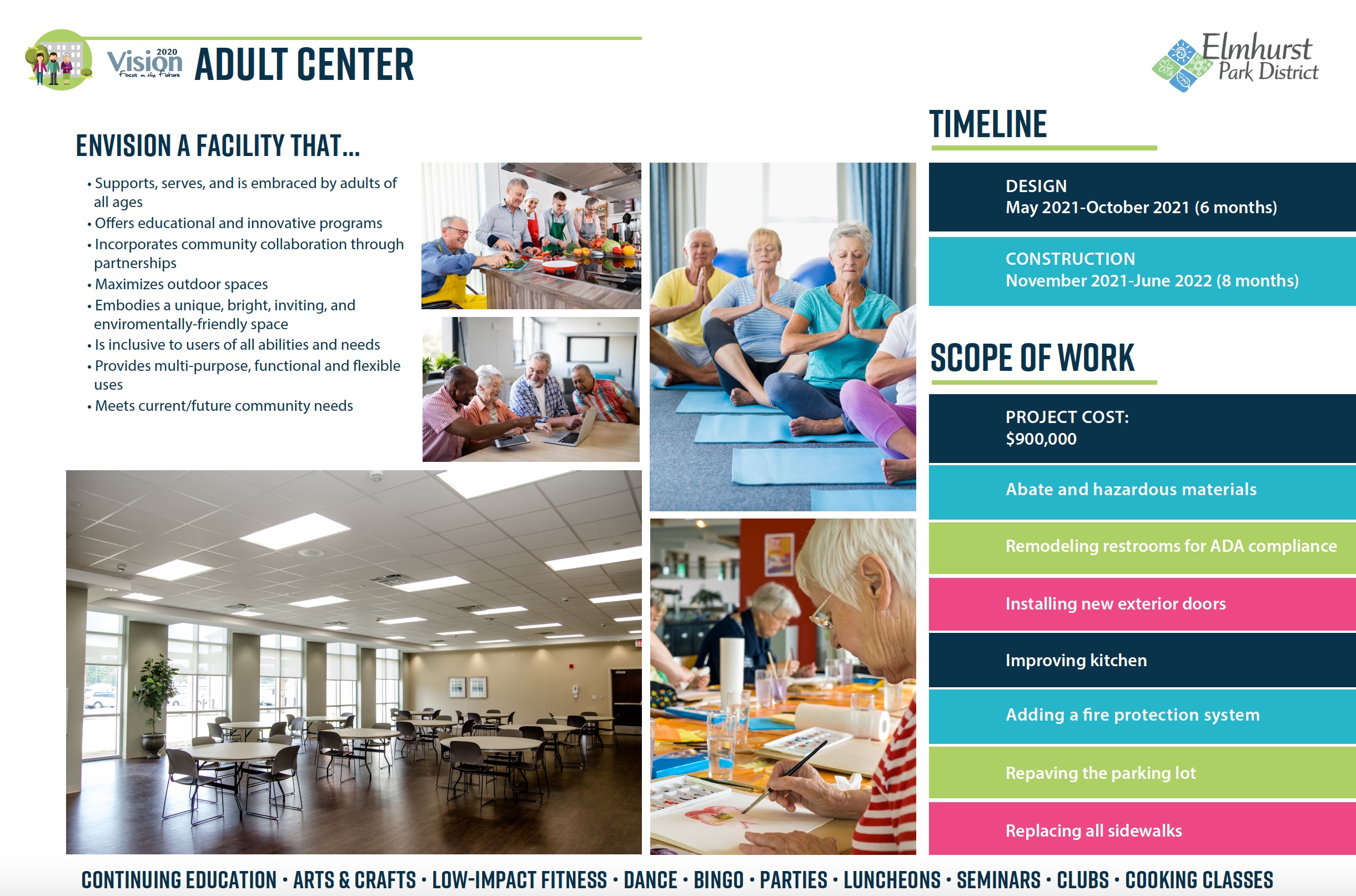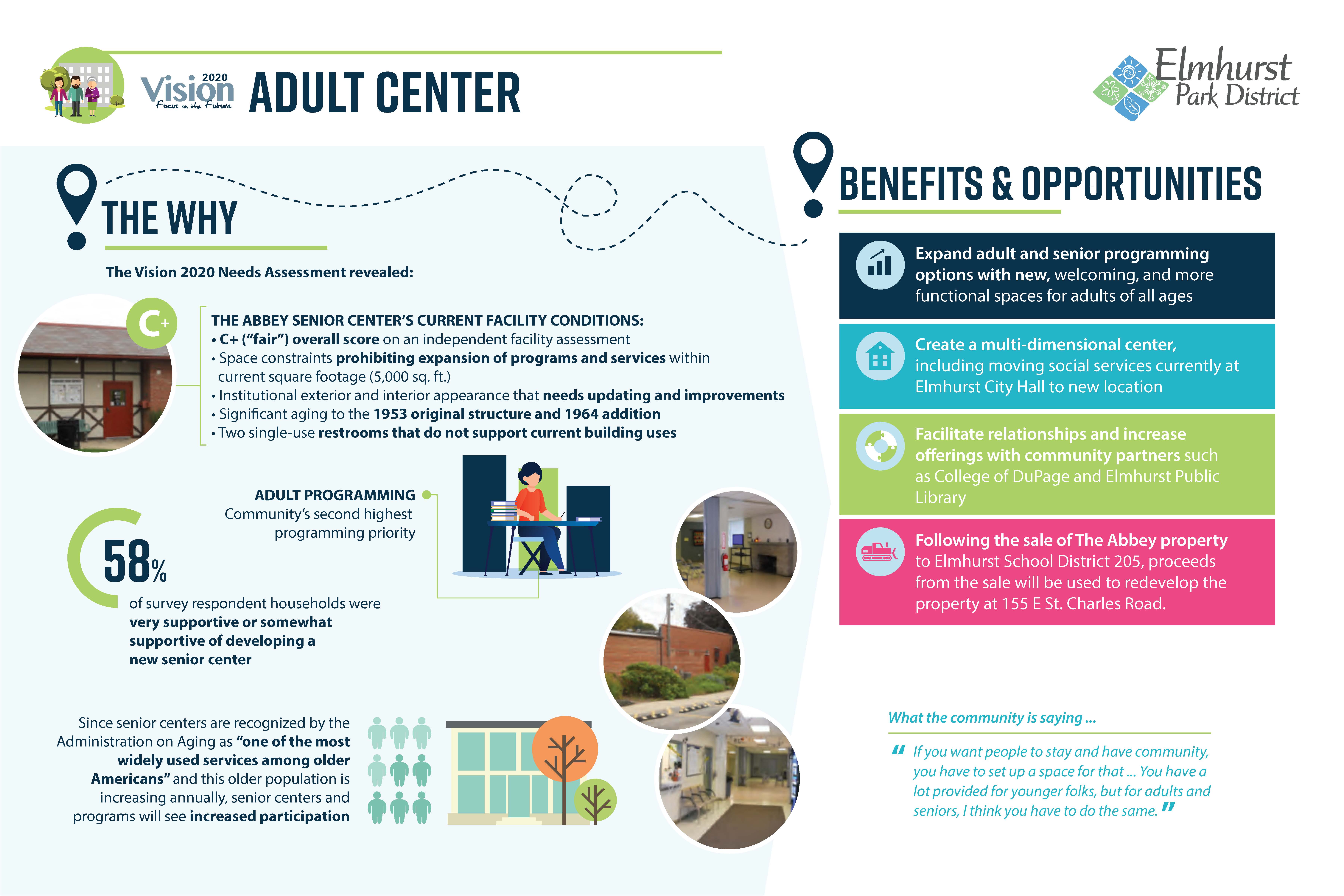 Project Background
Background: Based on the needs assessment and community feedback conducted during and after the Vision 2020 process, the Park Board continued to move forward with developing a new Adult Center, including acquiring the 155 E. St. Charles Road facility and selling The Abbey to Elmhurst School District #205 for their new transition center. The existing building was 12,800 square feet on a 2.92 acre lot with a 67 car parking lot and large open lawn area for a neighborhood park.
Need: The need for a new Adult Center was a key finding in the Vision 2020 Plan based on community support for a new facility, the interest in increased adult programming, and The Abbey's space constraints and condition, and the need for additional recreation programming space.
Building Review: The building had not had any major renovations in the past 20 years.  A complete review of the building systems, code review, ADA review and structural review was completed in 2019 by Dewberry Architects. Renovating the building brought it into compliance and improved the building aesthetics.
Cost and Funding: The total project cost was $900,000, including architecture/engineering services and construction. Proceeds from The Abbey sale funded the majority of the project ($700,000) along with Special Recreation Association Fund reserves for accessibility improvements ($200,000).
Progress Update
Park Board approved contract to hire Dewberry Architects for architecture/engineering services (Winter 2021)
Held project kick-off meeting with staff and representatives of Dewberry Architects and their subcontracted engineers (Spring 2021)
Dewberry Architects completed, and the Park Board reviewed, updated project scope, cost estimates, and schematic design (Spring and Summer 2021)
Completed project bid process and Park Board approved contract to hire EHC Industries, Inc. for asbestos abatement and O'Neill Contractors, Inc. for construction (Fall 2021)
Completed City of Elmhurst's Planned Unit Development Process for Adult Center/Centennial Park site, including presenting the concept plan to the City's Development, Planning and Zoning Committee and Zoning and Planning Commission along with holding a public meeting at the site (Fall 2021)
Elmhurst City Council approved the Planned Unit Development application, including an Ordinance granting a Conditional Use permit (Fall 2021)
EHC Industries, Inc. completed asbestos abatement (Fall 2021)
O'Neill Contractors, Inc. completed construction and installed and painted temporary exterior doors and frames (permanent doors delayed due to supply chain demand) (Winter and Spring 2022)
Completed post-construction cleaning to prepare for building set-up (Spring 2022)
Replaced all original 1970s interior lighting fixtures using LED retrofit kits through the ComEd Energy Efficiency Program (lighting costs projected to decrease by 80% for the life of the fixtures) (Spring 2022)
Opened facility for programming and registration and held grand opening event on June 17 (Spring 2022)
Installed permanent exterior doors and frames to replace the original temporary doors installed earlier in the year (Summer 2022)
Centennial Recreation Center Open House and Ribbon Cutting - June 17, 2022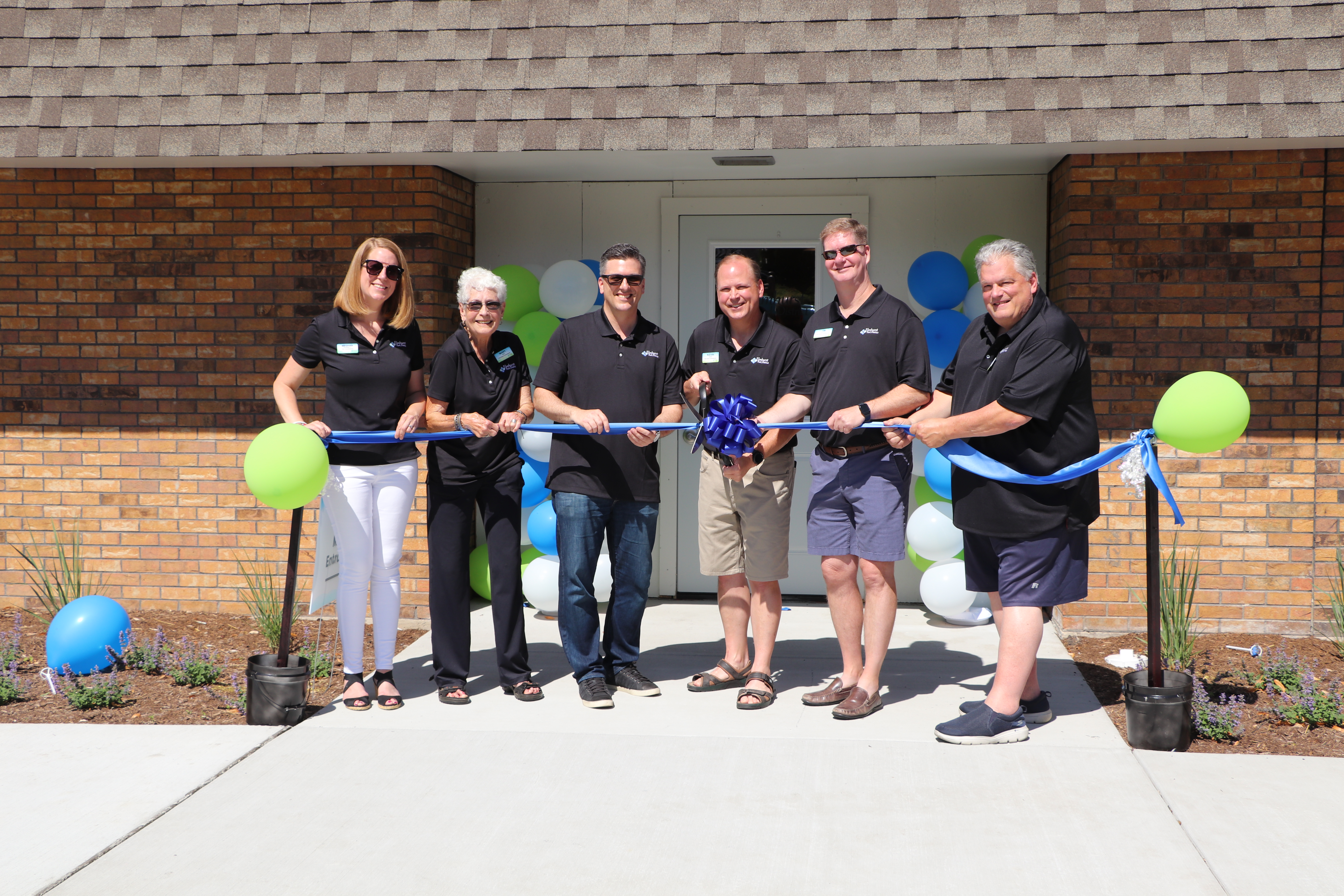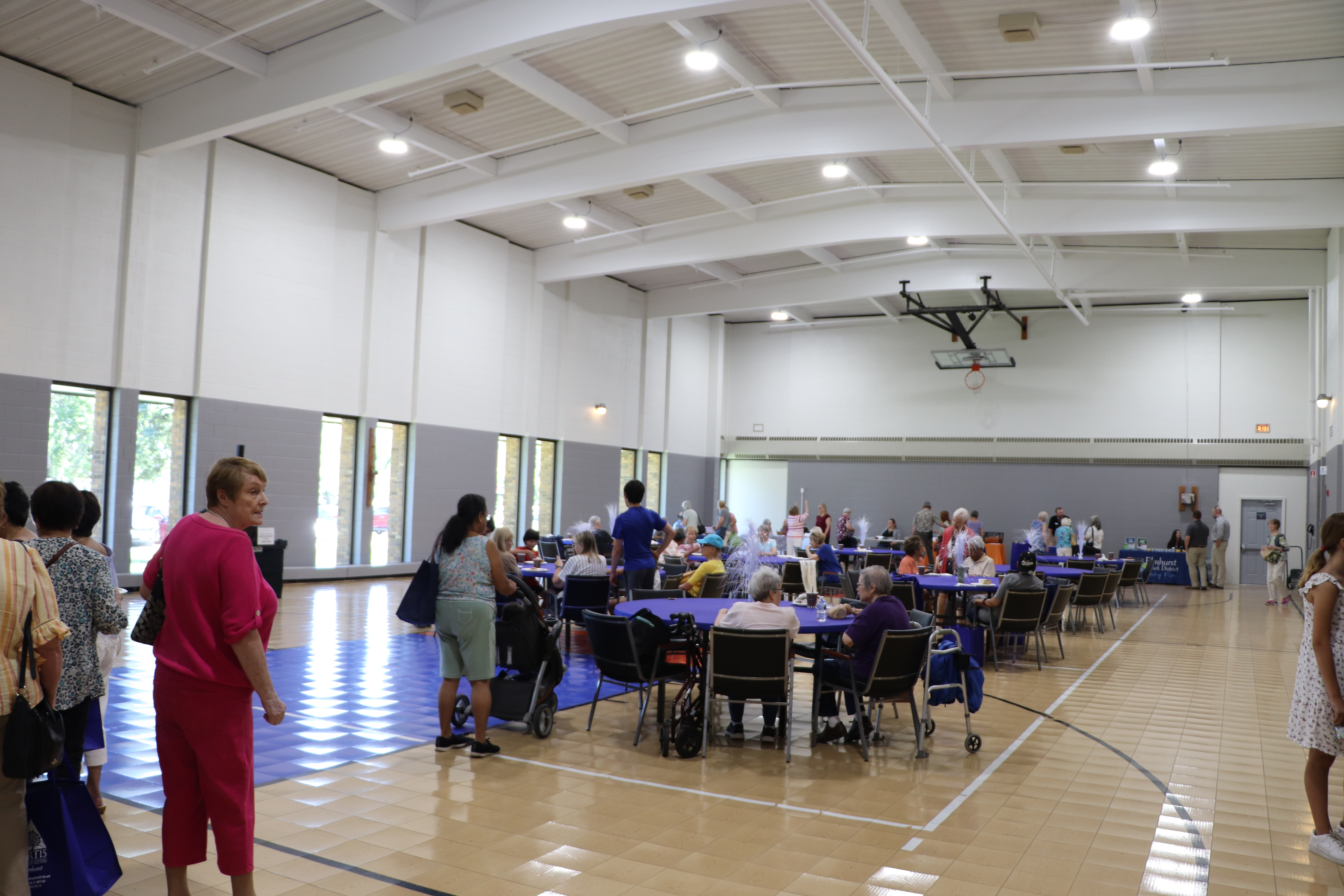 Tactic 2: Implement Centennial Recreation Center facility and operations plan (Completed 2022)
Progress Update
Completed facility and operating plan to allocate necessary resources in 2022 Budget to open facility (Fall 2021)
To support future operational needs of Centennial Recreation Center (CRC), new Facilities Specialist I and Registration Clerk positions were approved in the 2022 Budget (Winter 2022)
To prepare for June 2022 opening, position of Program Supervisor – Active Adults in Recreation (eliminated in 2020) was restored in the 2022 Budget and filled in February (Fall 2021 and Winter 2022)
Implemented programming plan with development and scheduling of events and activities for summer season (Winter 2022)
Worked with representatives from Metropolitan Family Services, as well as the City of Elmhurst, to plan to relocate the Office of Senior Services from City Hall into CRC (Winter and Spring 2022)
Implemented registration operating plan to open registration desk and lobby, including hiring new Registration Clerk and purchasing supplies (Spring 2022)
Filled Facilities Specialist I position to prepare building for programs, both from a custodial and operational set-up function (Spring 2022)
Posted emergency evacuation plans and installed fire extinguishers (Spring 2022)
To address Information Technology needs, completed cabling and coordinated installation of security cameras, networking hardware and internet services (Spring 2022)
Memorandum of Understanding was approved by Elmhurst City Council (6/6/2022) and Park Board (6/27/2022), outlining both organizations' responsibilities in regards to housing Metropolitan Family Services at CRC and use of space within the facility by the agency (Spring and Summer 2022)
Opened facility for programs and registration on June 13 (Summer 2022)