Meet community need for parks, open space, and outdoor amenities.
Goal 1: Maintain and update existing parks, open space, and amenities.
Goal 2: Address open space and amenity deficiencies and equitability.
Goal 3: Provide new recreational opportunities to respond to community needs.
Tactic 1: Utilize outdoor spaces in innovative ways to provide core offerings (Completed-Fall 2021)
Progress Update
Offered Courts Plus group exercise programs outdoors as well as virtually and indoors (Spring and Summer 2021)
Installed a temporary tent on the Sugar Creek Golf Course deck for outings and banquets to encourage outdoor gatherings (Spring, Summer and Fall 2021)
Offered a circle time Early Childhood program in the parks (Summer and Fall 2021)
Tactic 2: Create master plan for an expanded Glos Park at 142 E Park Avenue, demolish building at 135 Palmer Drive, and complete site improvements (Targeted Completion Date-Spring 2022)
Project Background
Serving the Elmhurst downtown area, Glos Park provides park open space and formal gardens in this densely populated area.
Need and Benefits: By demolishing the building on the adjacent property at 135 Palmer Drive (acquired in 2016), the District has the opportunity to increase park open space and amenities for the neighborhood. The Palmer Drive building is in poor condition as illustrated in an independent facility assessment by Dewberry Architects.
Cost: The Park Board budgeted $675,853 to hire the landscape architecture firm, Upland Design, to create a development plan for an expanded Glos Park (based on public feedback) and other firms to demolish the building and parking lot and complete site improvements.
Funding: Developer donations accrued in previous fiscal years ($675,853).
Timeline based on a realistic construction schedule:

​Spring/Summer 2021: Community feedback and project planning
August 2021: Demolition of 135 Palmer Drive building
Fall 2021: Project bid process and approval and begin construction
Winter/Spring 2022: Construction continues with a targeted completion in spring
Progress Update
Park Board approved hiring of Upland Design for landscape architect/engineering services to develop the Glos Park expansion Master Plan (Winter 2021)
Park Board approved hiring Midwest Environmental Consulting Services, Inc. to abate all hazardous materials and oversee the removal of an underground storage tank at the 135 Palmer Drive building (Spring 2021)
Held a community open house (5/3/2021) to gather feedback on three concepts and potential amenities for the new park open space (46 participants) (Spring 2021)
Conducted community survey in early May 2021 to gather additional input on the three concept plans and potential new amenities (Spring 2021)
Presented draft master plan concept to the community at a second open house on June 17, 2021 (Spring 2021)
Park Board reviewed and approved draft master plan on June 28, 2021 (Summer 2021)
Midwest Environmental Consulting Services, Inc. completed building abatement and final air testing (Summer 2021)
R W Collins Company removed a 6,000 gallon heating tank from the property, transported it off site, and properly disposed its contents and contaminated soils (Summer 2021)
Park Board approved contract for Fowler Enterprises LLC to provide building demolition services (Summer 2021)
Fowler Enterprises LLC demolished building, removed adjacent parking lot, and backfilled and graded site (Summer and Fall 2021)
Completed (Upland Design surveyor) topographic survey to develop construction drawings based on Master Plan and site elevations (Fall 2021)
Purchased pergola (in the approved Master Plan for expanding the park) early due to upcoming price increases (due to steel pricing volatility) (Fall 2021)
Posted bid legal notice and began accepting bids (Winter 2022)
Eight contractors attended the mandatory pre-bid meeting on January 11, 2022 (Winter 2022) 
Sealed bids for the project due January 25, 2022; the lowest responsible bid anticipated to be brought to the Board for approval on February 14, 2022 (Winter 2022)
Glos Memorial Park approved Master Plan (click to enlarge)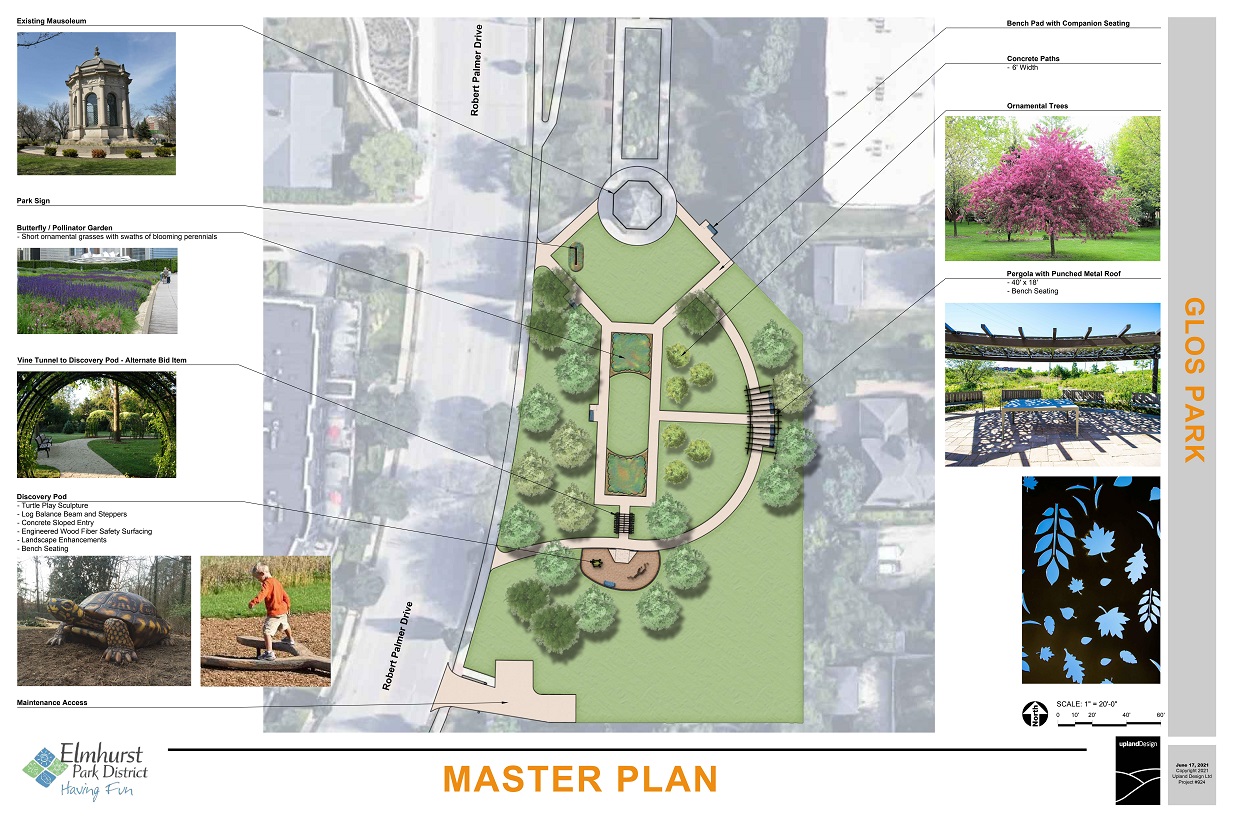 135 Palmer Drive Demolition
Tactic 3: Create master plan and complete construction of a neighborhood park at Centennial Park (Targeted Completion Date-Spring 2022)
Project Background
Along with renovating the new Adult Center building at Centennial Park (155 E. St. Charles Road), the District is redeveloping the adjacent park open space in 2021.
Need: As part of the Vision 2020 park level of service analysis, the planning area for this neighborhood was identified as a high land acquisition priority due to the lack of access to park space and amenities such as a playground. According to the Vision 2020 Plan, 36% of residents do not have access to a neighborhood park within a half mile of their home. Centennial Park meets this need for this neighborhood.
Benefits: By improving the site, the District will expand park offerings and the level of services provided to the neighborhood and users of the Adult Center and improve equity across the community regarding access to park amenities. The new park would also enhance the quality of life of the neighborhood due to its environmental and social benefits.
Cost: The total budget for this project is $900,000. Project costs include working with Upland Design, a landscape architecture firm, to create a park master plan based on public feedback along with engineering, design, and construction expenses to develop the site.
Funding: In 2022, the District will fund the project utilizing $503,600 of The Abbey sale proceeds ($196,400 in 2021) and $200,000 of Special Recreation Association Fund reserves for accessibility improvements.
Timeline based on a realistic construction schedule:

​Spring/Summer 2021: Community feedback and project planning
Fall 2021: Project bid process and approval and begin construction
Winter/Spring 2022: Construction continues with targeted completion in Spring
Progress Update
Park Board approved hiring of Upland Design for landscape architect/engineering services to develop Centennial Park Master Plan (Winter 2021)
Held community open house (4/22/2021) to gather feedback on potential amenities to shape park plan concepts (over 50 participants) (Spring 2021)
Based on feedback, Upland Design developed park concept plans and gathered additional feedback at second community open house on May 27, 2021 and via an online community survey with 683 responses (Spring 2021)
Based on the second community open house and survey feedback, Upland Design developed a draft master plan (Spring 2021)
Park Board reviewed and approved the draft master plan on June 28, 2021 (Summer 2021)
Purchased and received playground equipment and park shelter early due to anticipated price increases and to avoid supply chain back-ups (Summer and Fall 2021)
Completed project engineering and design (overseen by Upland Design), along with the project bid process (Summer and Fall 2021) 
Held mandatory on-site pre-bid meeting (10 contractors attended) (Fall 2021)
Park Board awarded the Centennial Park construction project to E. Hoffman Inc. (Fall 2021)
Completed City of Elmhurst's Planned Unit Development Process for Adult Center/Centennial Park site, including presenting the concept plan to the City's Development, Planning and Zoning Committee and Zoning and Planning Commission along with holding a public meeting at the site (Fall 2021)
Centennial Park Master Plan (click to enlarge)